Three years after it was declared "The Worst Restaurant In NYC Right Now," Salt Bae's Manhattan burger joint has closed.
Salt Bae, of course, is the social media tag for the New York celebrity chef and butcher Nusret Gökçe, who became famous for bouncing flakes of salt off his forearm and on to just about anything edible, giving customers varying degrees of salt-shock.
He opened Salt Bae Burger in a city obsessed with finding the best burger possible, and the outlet on Park Avenue has received a bumpy ride ever since. It opened in late February 2020 – just before the city went into Covid-19 lockdowns – to accusations of sexism because it had offered a free, appetizer-sized veggie "ladies burger" in pink buns to women only.
"We wanted to compliment the ladies," its general manager, Al Avci, told Eater, who explained the stunt had gone down well in Dubai. "We weren't thinking it would be sexist."
But the Salt Bae Burger also drew consternation as the home of the $99, gold-flecked milkshake and the $100 Gold Burger, which was encased in gold foil. Meanwhile, in terms of ambience, Eater critic Robert Sietsema wrote, "it had all the charm of an airplane hangar."
Scott Lynch, a reviewer for Gothamist, said he'd "had the unfortunate opportunity a few weeks ago to eat several sad servings of hospital food, and everything I had at Salt Bae was worse". The menushe wrote, was framed in metal like a tombstone "apparently marking the death of everything pleasurable about eating".
The inexpensive Wet Burger, he added, was "actually just a bigger disc of meat sitting in a soggy, unpleasantly sweet bun. It's also tiny, but you can't eat more than a single bite anyway." Lynch called Salt Bae Burger the city's worst restaurant.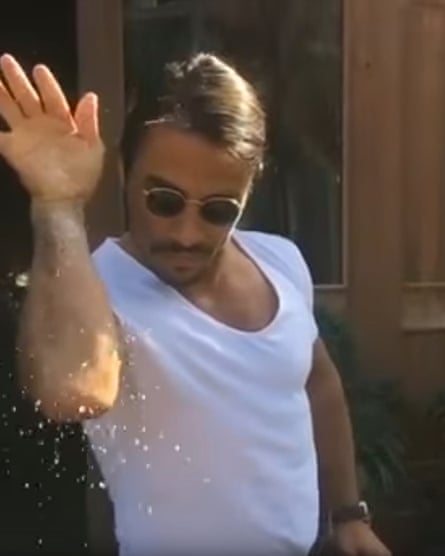 Gökçe, who would cook in aviator sunglasses and tight white T-shirts, had seen success before. The Turkish restaurant impresario became famous three years earlier, in 2017, when – through his "salt crystals bouncing off arm bent in a swan-like formation" technique – he earned more than 52 million followers on Instagram via a chain of Nusr-Et steakhouses with more than 20 locations worldwide.
But the salting technique also attracted unwanted attention. When Gökçe donned gloves to perform the salting, some wondered if that might be because the technique could otherwise violate health codes.
Also, before Salt Bae Burger opened, the company behind the Nusr-Et restaurants was slapped with legal claims ranging from sexual harassment to wage theft. Gökçe raised eyebrows after bragging about feeding the Venezuelan leader Nicolás Maduro, US conservative darling Donald Trump Jr. and Leonardo DiCaprio, who is known for his dating life as much as his critically acclaimed film roles.
And the reviews weren't great, either.
The New York Post called it "Public Rip-off No. 1" which cost $521.45 for dinner for two and left the diners "craving a snack". A $25 salad was composed of "days-old iceberg lettuce and mystery greens with tasteless goat cheese and a few walnuts, raisins, and pomegranate seeds".
The New York Times critic Pete Wells said he'd experienced more than the theatrical application of salt to his order. "I had a pair of trousers that Salt Bae had seasoned like a steak," he wrote.
He added: "Mr Gokce has only one move, but he performs it with total confidence, and as anybody who's ever been on a dance floor knows, that's enough."
Still, Gökçe's fame has been real enough.
"Americans and New Yorkers love me very much," he told the New York Times. He described how he served most of the meat to customers, saying: "After I cut it, I do the move.
"I go to the same table, sometimes three times. I don't see myself as a butcher or just a restaurant owner. I see my job as an art because I make art out of meat and the move is like a final touch on this art. It came from within me."
Nonetheless, Salt Bae Burger closed last month, and the title of New York's best – and worst – burger is up for grabs.