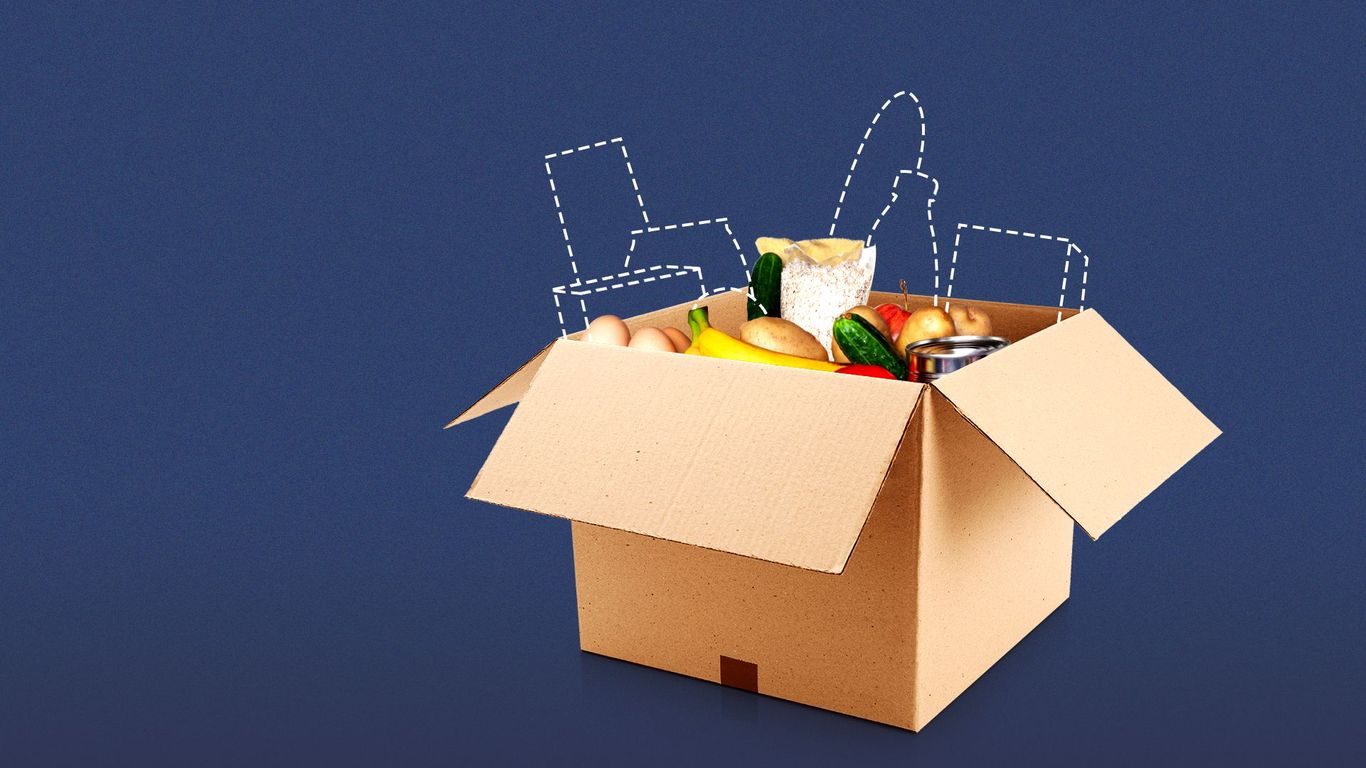 Illustration: Allie Carl/Axios
Des Moines Major Frank Cownie wants more detail about the "immediate collaboration" that multiple nonprofit food networks involved in contract disputes promised on Dec. 22.
That's according to a memo he wrote last week to Food Bank of Iowa CEO Michelle Book obtained by Axios.
Why it matters: Families who need the food are caught in the contract crosshairs and Cownie is not convinced the problems are resolved, he told Axios Friday.
The city council "will be very reluctant" to give final approval next month to $600,000 in assistance without assurances that the metro food war is over, he said.
Catch up fast: About a dozen Des Moines Area Religious Council (DMARC) food pantries lost access to the food bank in November, including its wholesale distribution and food rescue services.
The dispute centers on new food bank allocation requirements that DMARC said would allow people to surf pantry among its metro network — collecting up to a 45-day supply of food each month, a level that would be unsustainable.
Meanwhile: Groups affiliated with DMARC pantries, like the Salvation Army, contend the disagreement has left families in need and homeless populations without some supplies.
State of play: The DSM City Council unanimously warned the groups last month that failure to resolve contract problems by Dec. 31 would result in consideration of federal aid that was allocated to them but has not yet been distributed.
Immediate food rescue collaborations were promised by Book and DMARC CEO Matt Unger a few days after the council's warning.
What's happening: An agreement between West Des Moines Human Services and the food bank has restored access to one site, officials announced last week.
Yes, but: As many as 10 of DMARC's 15 food pantries still don't have access to the food bank's services.
What they're saying: Almost nothing.
Book and Unger "have committed to a facilitated conversation via the Community Foundation and United Way," Annette Hacker, a spokesperson for the food bank told Axios Tuesday.
They've also agreed "not to enter sidebar conversations in the interim," Hacker said in an email that cc'd Unger.
Of note: When contacted separately, Luke Elzinga, DMARC's advocacy manager, told Axios Tuesday that talks are at a standstill as the groups try to find a meeting time.
zoom in: Cownie stressed the urgency of finding a resolution in his Jan. 9 emails to Book and offered to assist with mediation.
As of Tuesday afternoon, that offer had not been accepted, Cownie said.
What's next: The council is expected to act in late February.
The money could be reallocated to other groups or programs that help families access food, Cownie said.